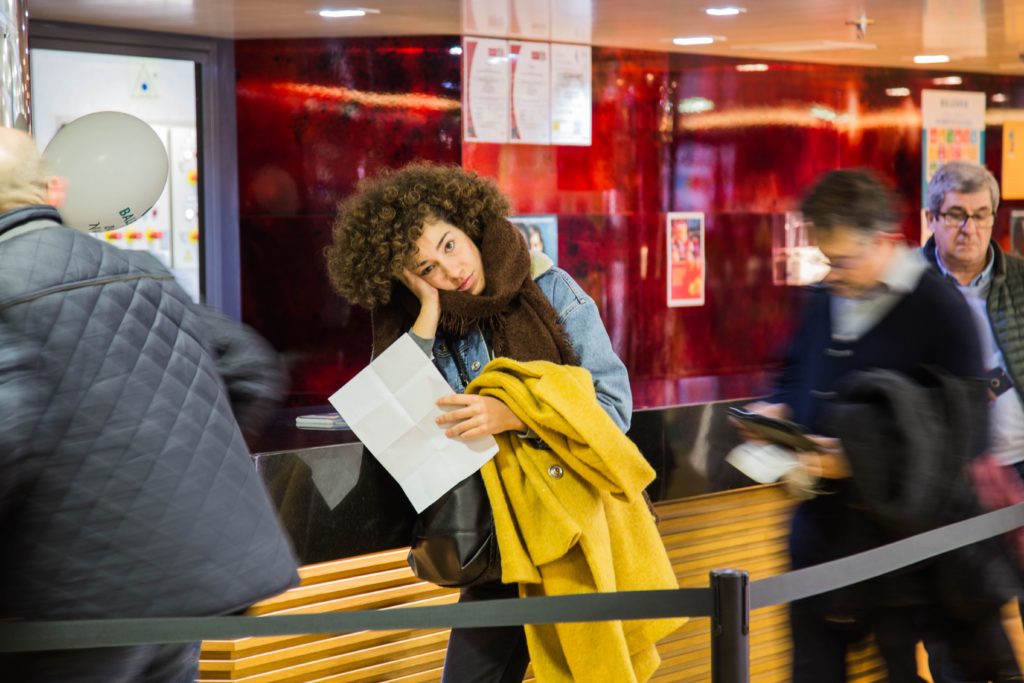 Everybody waits.
All the time.
Everywhere.
In traffic. At the grocery store. At the fast food restaurant. Stop just a minute… I thought  they said it was fast?
With seven BILLION people on this planet, that's still a surprise to most of us.
Do you find yourself waiting a lot? Sorry, that's not a serious question.
What's your strategy for dealing with lines?
I don't pick lines. I lack the ability to select the line with the shortest wait. Even if there's only one person in that line. Even if there's no one in that line.
It's true. My wife and I have an agreement. I don't pick the line. Never.
What can you do WHILE you're waiting?
You do what everyone does. You instinctively draw your phone like a cowboy in a gunfight. Or, as if it was the only inflatable lifeboat on the Titanic and no one else has one. Think Transformer style.
Maybe the next iPhone will have that? I think that's a great idea, don't you?
A while back I was reading a post by Ian Brodie in which he suggested that we stop automatically reaching for our phones when we're waiting.
Say what? Excuse me.
Then, what do you expect me to do?
Seriously, Ian. I catch up on email. I check my Facebook feed. Twitter. LinkedIn. The whole bit.
I have the Kindle app, so I always have a book in process that's suitable to be read in little bits and pieces. I call it my waiting book.
What else would I call it?
Yes, it's sometimes challenging to pick a book that can be read this way. I get through about three waiting books a year. The practice is not well-suited for a fast-action thriller.
That would not work.
So, let's put all that aside for a moment. What would one do if… say, they went out without their phone?
It happens… and you feel naked. At least for the first while.
I don't know. Maybe a long while.
It happened to me today on my way out to grab some lunch. I first realized it as I drove out of the neighborhood. The natural reaction would be sheer panic. It was… seriously.
Stomp on the brakes. Throw it into reverse. Okay, not quite… but that image flashed through my brain.
But I drove on. I had about three miles to come to terms with the situation and develop a plan.
Fortunately, it was a long three miles.
I live in a town where the traffic lights are timed so you will miss most of them. (There are at least ten in those three miles. It's the local government's attempt to keep the main road from being commuter-friendly).
I had decided on ducking into Chipotle and grabbing something quick since it was already 2 pm and I was going to be by myself.
Now, however, with no phone to be my friend for lunch… With no screen to lock my eyes upon… I had a problem. A very serious problem.
I not only felt naked, I was going to be alone… NAKED. AFRAID. ALONE. What's that TV show called? Like that, but without the jungle.
Back to Ian's suggestion. I had no choice but to try.
Sometimes, you've just got to suck it up and do what you've got to do. It's part of life.
I had to try new things…
Observe the world around me
Be mindful of what I'm eating
Watch the people
Maybe even say something to one of them?
Nah. I'll save that for next time.
So, I watched some of the people, gazed out the window, found comfort in my thoughts.
Wait. Who am I kidding?
No. There was NO comfort in my thoughts today. Maybe that will come… with practice… practice I hope not to have.
Since, not unlike most of the other humans out there, I don't know how to function without my phone. Especially when I'm forced to wait.
Which is all the time.
Thank you for being part of the LifeUntucked community. If you enjoyed this post, do me a favor and share it with a friend. I owe you one…
See you next Wednesday…